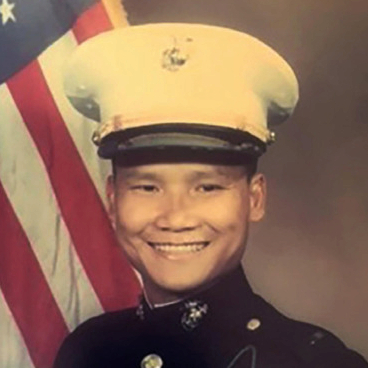 Thomas Allen Moore
The Thomas Allen Moore Scholarship was established by Mr. Robert Moore, father of the late Thomas Allen Moore, a UWL graduate in 1981. Mr. Moore shares this information about his son:
My son was born Nuygen Duc Tam near DaNang in what was then South Viet Nam. He became separated from his family due to the horrors of war and ended up on the streets of DaNang where an American civilian worker gave him a home and enrolled him in a school run by Roman Catholic nuns. The American returned to the US and later I met Tam when I was a Navy Chaplain serving with the US Marines in the DaNang area. I ended up adopting Tam (he chose the name 'Thomas Allen Moore''); he was ten/eleven at the time. I was then able to bring Thomas as my son to the USA and we settled in Anoka, Minnesota when I left the Navy where I served as an Episcopal Church priest. Thomas adapted to life as an American very well, becoming an Eagle Scout in the Boy Scouts, earning a degree from UWL, and serving in the U.S. Marine Corps reaching the rank of Major. After leaving the Marines, he worked for the State of California in San Diego. Unfortunately, he died of a heart attack in 2003 on a visit to Minnesota. I was with him. I then established the scholarship fund in his memory.
He was very proud of having a degree from UW-La Crosse; in fact, it was one of the three main achievements he regarded in his life, the other two being an Eagle Scout and a Major in the USMC.
Impact
The legacy of Thomas Allen Moore lives on at UWL through this scholarship. His father Robert said, "I miss him greatly and established the memorial scholarship so he would not be forgotten." UWL is grateful for the generous support in memory of Thomas Allen Moore.