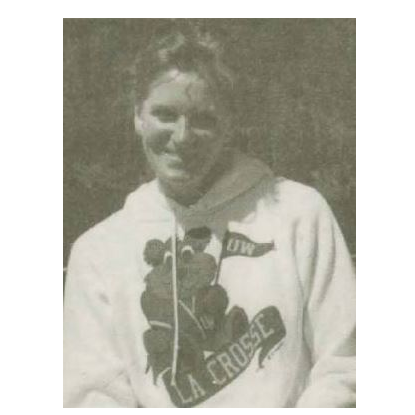 Cindi Stoller Polek
The Cindi Stoller Polek Scholarship in Physical Therapy was established in 1992. Rich Polek wanted a lasting memorial for his wife, Cindi, after she died at the age of 35 following a brief bout with cancer. Cindi Stoller Polek, graduated from UW-L's prestigious PT program in 1981. One of her co-workers suggested Rich Polek
establish a scholarship at Good Shepherd Hospital in Barrington, Ill., where Cindi worked. According to hospital policies at the time, the scholarship fund wasn't large enough for an endowment. While considering how to proceed with the fund, Polek remembered a brochure sent Cindi's former teachers, Jim Gould. The brochure outlined UWL Foundation funds, noting that only $5,000 was needed to initiate an endowed scholarship. Polek, who had already collected more than $15,000 from friends and relatives, met with Gould and UWL Foundation official Al Trapp. Polek liked what he heard and eventually transferred the donations to the UWL Foundation where he knew he could endow the scholarship. "I knew I could trust the Foundation at Cindi's alma mater to faithfully operate the scholarship according to my wishes," Polek says.
Polek continued to ask friends and family for contributions to the scholarship so it could be endowed large enough to generate annual earnings between $2,000-$3,000. That's where neighbor "Ernie" entered the picture. Ernie Matejaitis became Rich and Cindi Polek's neighbor when they moved to Lindenhurst, Ill., a suburb north of Chicago. Matejaitis could have been described as a cast member from the movie "Grumpy Old Men.'' "He was unassuming and remarkable for his worn attire, lack of socks and often unshaven face, and three dogs on leashes as he walked around the block," remembers Polek. "Ernie befriended anyone who accepted him at face value." Poleks became more than across-the­ fence neighbors to the loner Matejaitis, who felt he could never help enough with his neighbors' repair projects. "Cindi made a huge impression on him," explains Polek. "She was such an attentive listener, always · responding with great sensitivity. She made the other person feel like they were the most important person in the world. That l made a big impact on Ernie and almost every­ one she knew." Like his immigrant father, Matejaitis worked at U.S. Steel and Wire until retiring in 1980 with 38 years of service. He never married and liked to teasingly about his investments. "He told his neighbors that his hobby was money," recalls Polek.
One day Polek and Matejaitis, who usually talked business, began discussing wills and estates. Polek pointed out to Matejaitis that if he didn't have a will, the government would decide where his money would go after it taxes his money – for the second time – before it went to beneficiaries. Matejaitis -who had pulled U.S. flagpole from his front lawn after a disagreement with the government – didn't want the second tax. An alternative was to give most of his e·tate to charity. After hiring an attorney and writing a will, Matejaitis told Polek he had named Cindi's UW-L Foundation endowment as one of several beneficiaries. Polek, however, didn't know it was the primary benefactor until the will was read after Matejaitis died of prostate cancer on May 27, 1995. Later in the year, the estate gave $1 million to the endowment."This all started on the front stoop of my house," notes Polek. "I'm humbled by what we're going to be able to do."Scholarships to "touch many"
Rich Polek remarried in October 1994. His wife, the former Jennifer Woleben of Elgin, Ill., became Matejaihs' new neighbor and developed a friendship. Matejaitis didn't shy away from sharing stories about Cindi. And when his illness took hold, Jennifer didn't shy away from asking ­ ing him some eternal questions. Jennifer believed the humble Matejaitis main concern was remembering his special former neighbor. "Ernie knew what he left in Cindi's memory," explains Jennifer. Matejaitis liked to focus on his "red-haired angel with the squeaky voice" when talking about spirituality, she says. "He believed that Cindi's soul was going to be the first he'd encounter in the next life," she recalls. Rich Polek originally established the scholarship in Cindi's name so others could come to know the "young woman who brought a red-headed fire of enthusiasm to her work as a phys­ical therapist," but the $1 million gift changes that. With the expanded scholarships, many more students will come to know not only the young physical therapist who flashed her bright blue eyes and heartwarming smile to pa tients, but he wishes Jim Gould, who died of cancer in August 1995 was still alive to see his dream of funding scholarships for PT students come true. Even though Cindi and her friends are dead, Polek says their impact isn't. "Cindi, Ernie, and Jim are role models to me," he explains.
Impact
Rich Polek and his wife, Jennifer, and their children, Cole and Natalee, return to La Crosse each fall to meet the recipients of the Cindi Stoller Polek Scholarship in Physical Therapy. 2019 will mark the 29th year that the Polek Family returns to UWL to remember Cindi and honor Ernie Matejaitis for his incredible gift to support physical therapy students. Each year, approximately 6 scholarships are awarded for a total of $50,000.
January 2019 ArticleCampus Connection
For Maria Lee, getting the Cindi Stoller Polek Scholarship in Physical Therapy not only allowed her to work less and study more. It also reassured the UW-La Crosse physical therapy student that she was preparing for the right profession. The Black River Falls native fell in love with physical therapy during high school after spending many hours volunteering at the local hospital and job shadowing in the PT department. "I quickly realized just how rewarding helping individuals either regain or modify functional abilities was," explains Lee. "It was something I could make a career out of." She had heard about UW-L's prestigious reputation in physical therapy. So when Lee received her letter of acceptance, her choice was simple.
New to campus, Lee wasn't aware of the growing scholarship offerings through the UW-L Foundation, but soon discovered the many financial opportunities through campus emails and ads. After receiving a scholarship, the exercise and sport science pre-professional undergraduate continued to buckle down on academics along with getting involved on campus. It paid off. For 2018-19, Lee added to previous scholarships when she received $1,000 from both the Lillian Neale Campbell Scholarship in Physical Therapy and the Carsten & Zedona Christiansen Memorial Scholarship for Physical Therapy. But her biggest award was the Polek scholarship, which provided $4,220 for two semesters. Her total from the UW-L Foundation during undergraduate and graduate studies: $16,085.
Students across campus are benefiting from the increasing number of UW-L Foundation scholarships available. Over that past eight years, the total amount of scholarships funded has increased from $467,000 to $1.2 million. That's thanks to the UW-L Foundation's success in securing $15 million raised through the Share the La Crosse Experience campaign that reached its goal a year early. But fundraising will continue through 2019 so even more students can benefit. But Lee says the scholarships have delivered much more than money, which she's extremely grateful for. She doesn't have to worry about working long hours to make ends meet. Rather, she's able to focus on her studies, as well as work as a research assistant for Professor Thomas Kernozek in the Physical Therapy Department. Even more importantly, Lee has heard the message from Rich Polek about why the scholarship was created to honor his wife, Cindy, who was a beloved physical therapist before she died of cancer. "His uplifting message about such an extraordinary individual inspires me and reminds me every day of just how fortunate I am to be in a profession of helping and healing others," Lee says. "It inspires me to find positivity in each interaction and to be the best version of myself I can be." Lee says she can't express enough gratitude toward the thousands of UW-L Foundation donors who have graciously funded scholarships that have such a great impact on students. That paying forward attitude has inspired her. "I want to do for others as so many before me have done for me," Lee says. "The foundation and scholarships have truly made a huge impact on my life and I am excited to one day give back."