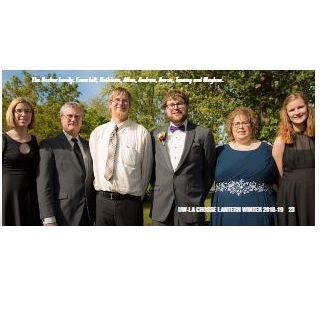 Allen & Tammy Becker Family
When Tammy Becker, '89, was ready to set up a scholarship for UWL students, she turned to two students she knew really well: her daughters. Becker, an accountancy alumna and mother of four, says Kathleen and Meghan, UWL 2018 graduate and UWL sophomore, respectively, played a large role in setting the amount and criteria for their family scholarship. The daughters provided insight into their college financing, which included working part-time and applying for scholarships through the UWL Foundation. Their input ultimately encouraged Tammy and the entire family to increase the award to $1,000 annually.
Tammy says her education served her well in providing the skills to launch her own business, Becker Tax & Bookkeeping, in Onalaska. With support from her husband, Allen, a retired factory worker, the business has grown. It has also thrived largely because of community customers. "We serve the La Crosse area and this is something we wanted to do to pay our success forward," explains Tammy. Tammy and Allen's successful careers also meant their daughters would receive no federal financial aid. Their parents covered half of the cost of their college education as they felt it is important that their daughters experience paying for their own tuition. Tammy paid her own way through college and noticed how it made her take the experience more seriously. Because of their parents' income, it was harder for the daughters to find scholarships they qualified for through the UWL Foundation. Both did end of eventually earning scholarships. That recognition felt "awesome and motivating….like my hard work paid off," notes Meghan, who has maintained part-time work to save for college since she was 16. Considering their own experience, the daughters encouraged their family to increase the amount of the scholarship. They also wanted the family award to include students who, like them, are paying for their education, but may not appear to have financial need.
Today, Tammy can rest assured that her daughters have taken college seriously. Kathleen graduated in May 2018 with a degree in chemistry and is enrolled in a doctoral program at the University of California, Davis. Meghan is successfully balancing her part-time job and sophomore year majoring in Spanish education. She is considering a future in education. I'm happy my mom could take the money she worked hard for with the skills she learned at UWL, and pay it forward to other people who are now attending," Meghan says.
Impact
The first award for the Allen and Tammy Becker Family Pay It Forward Scholarship was made in 2019. This permanent endowment fund will support UWL students for the future.